by Laura Kazimierska
Let's face it, the last few years were quite unusual for all of us, with the emotional rollercoasters, lockdowns, travel bans and restrictions. It's fair to say that the global pandemic had a massive impact on our decisions. Most of us have the time to stop and re-evaluate what's important and how we wish to continue our life. If you've been putting your dreams on hold for too long, and one of those dreams is moving to a tropical island surrounded by crystal clear water, and the sun shines 350 days a year, now is the time to pursue your goals. Don't let 2022 go to waste!
If you enjoy water activities, spend time surrounded by nature, or are adventurous, looking for new challenges, then the diving career maybe something for YOU. Who doesn't want to have an office with a beach view, co-working with turtles, and be around people driven by a passion for the ocean? Plus, you'll become a part of a community that makes the world a better place, one step at a time.
"I'm a Divemaster" sounds awesome, like something straight from the Avengers, right? The question is, what does it actually mean, and how can you become one? Ready? Now I'll explain, step by step, how to become a master of diving and change your life forever. You won't need any other dive guide.
LET'S DIVE IN, SHALL WE?!?
Table of Contents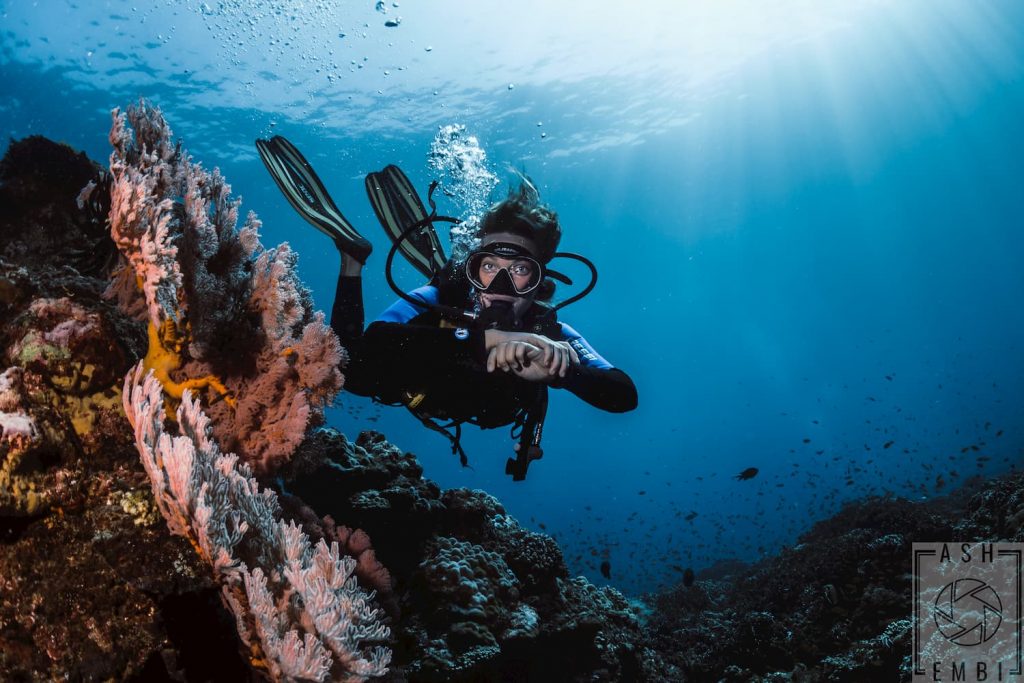 What is the first thing I need to do, to become a Divemaster you ask? Open Water Course
Your very first step in a diving career is an Open Water Course. It's an entry-level certification that allows you to discover the magical world of scuba diving. How long it's going to take to do your Open Water Course? That strictly depends on your location. The course may take 3 to 4 days if you are on holiday in a popular diving destination. If you do it back home while you're further away from the ocean or lakes, you can attend the classes in the evenings, after work, or do it on the weekends. In this case, it will take much longer.
During the course, you'll learn fundamental diving skills and how to deal with major underwater emergencies. In addition, you'll be tested on your knowledge and swimming abilities, as well as perform tasks on open water dives, such as: solving basic equipment problems, navigation, and buoyancy control. After completing the course, you'll get your "underwater ticket" to explore maximum depths of 18m/59ft to 20 m/66ft (depending on the diving certification program) and become an independent diver.
You have plenty of options to start your adventure. If you don't want to spend any time in the classroom, you can do the theory part online and just focus on practical skills.
Live in a cold country, and the idea of getting into a freezing lake sends shivers down your spine? Then, you can do the pool and theory part of the Open Water Course back home and finish your open water practical skills in a tropical destination like Egypt, the Philippines or Indonesia.
Of course, the most convenient option is to complete all your training in one place. So check out the best diving destinations that fit your budget and contact the dive centre directly to book your Open Water Course.
What is the next step after the Open Water Course to become a Divemaster?
Now that you are comfortable with your basic skills, it's time to learn more about the ocean and different diving techniques. During the Advanced Open Water Course, you truly start to explore what interests you the most in SCUBA diving. Maybe you'd like to take images underwater, master buoyancy control, dive up to 30/99ft, explore wrecks or play hide and seek with all the creatures on a night dive.
On the Advanced course, you get a taste of those different underwater activities, and you can choose which one is your favourite to pursue a speciality course in the future. In my opinion, the most beneficial one is Peak Performance Buoyancy as it will make you a better diver in no time. However, Nitrox and Wreck specs are also super cool, not to mention Sidemount! But let's talk about it on the other occasion cause I'm getting too excited.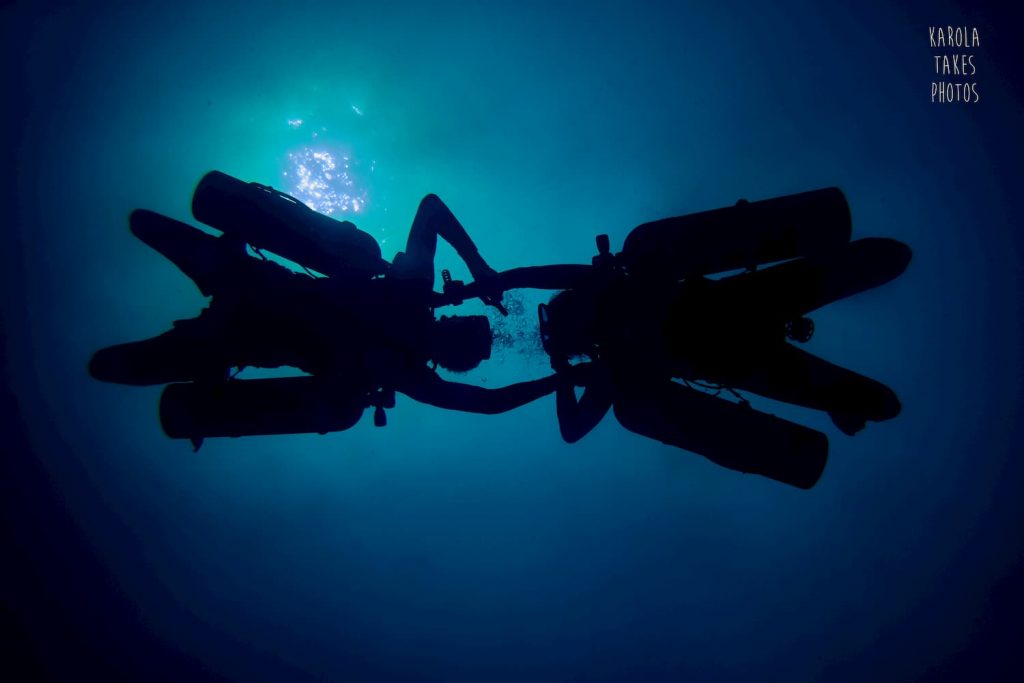 It is, again, a very flexible course. If you do it through PADI, you need to comfortably plan and execute five Adventure dives, two of which are mandatory: Deep Adventure dive (below 18m/56ft, maximum 30m/99ft) and Navigation Adventure dive (back to the compass skills yeah!). You get to choose the other three dives, and there are so many options! If you're not sure what to choose, ask your instructor, they know what would be the best Adventure dive for you.
What is also very cool about the Advanced Open Water course is that you don't have to do all the dives in one place. So, if you are in Malta (wreck diving is the THING there), you can do your Wreck Adventure dive, then on the next diving trip, you can do your Deep Adventure dive. Once you have all five dives, including Navigation, you become an Advanced Diver! On the downside, it's usually more expensive to do your course this way as every dive centre will offer a different rate for the dives.
If you do the whole course in one place, you'll usually get a better price. Also, you'll have a dedicated instructor guiding you through your progress and working on improving your fundamental skills and getting you to the advanced level.
What dive courses will I need to do, to become a Divemaster?
You've discovered different diving environments and techniques during your Advanced Open Water course. Now it's time to focus on helping others. As a Divemaster, you will be responsible for other people's safety. Therefore the next step in your diving career is a Rescue Diver Course combined with First Aid (PADI's Emergency First Responder, SSI's React Right, etc.). This course changes your perspective on underwater activities, as your objective is to deal with all sorts of emergencies.
During training, you'll be performing various rescue exercises, like self-rescue skills you've learned in the Open Water Course and progress to a buddy rescue such as dealing with a distressed diver on the surface and underwater or surfacing an unresponsive diver. Essentially while on the course, you become a SCUBA diver superhero, ready to save others at any time.
"As a Divemaster you will be responsible for other people's safety"
During the theory part, you will expand your knowledge on diving equipment, physiology, and how the body responds to pressure changes. You will organize a search for a missing diver and learn the different search patterns we use underwater. You'll start to recognize signs of stress and train to develop good judgment in any situation.
With a Rescue Course, you are progressing as a diver while having loads of fun through various challenges.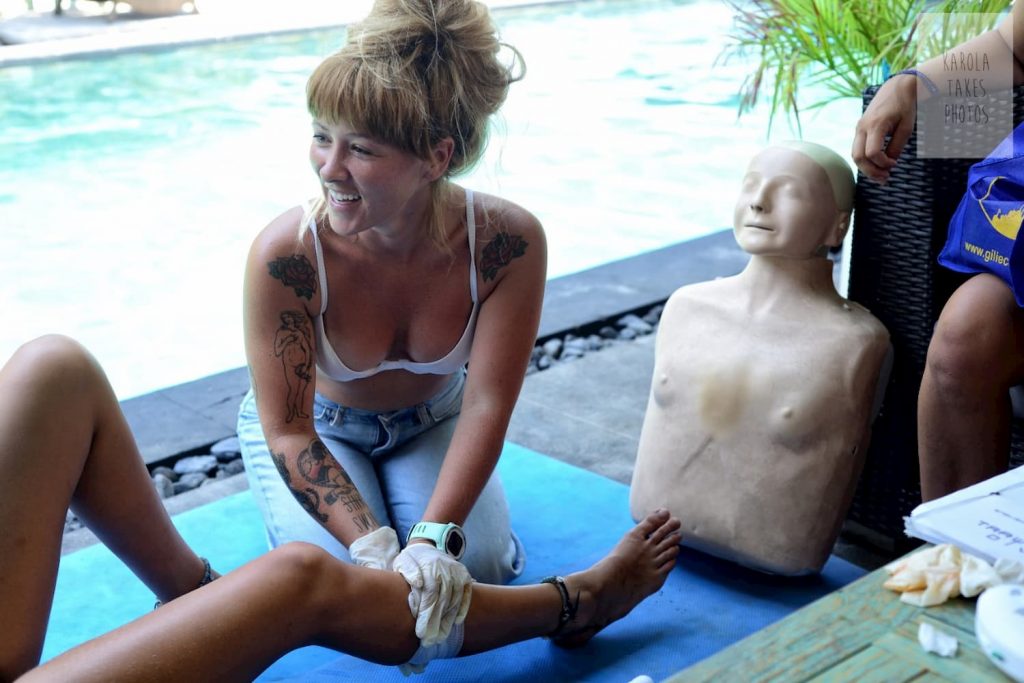 It's one of my favourite courses to teach, as the whole dive centre is usually involved in creating realistic emergency scenarios. It's also the course where you see the most significant transition in your students as divers, from being self-focused to turning that focus on others.
Hand in hand with that course, you need to be able to perform a rescue on land and get First AID training. You can do it before starting your Rescue Course, but make sure it's valid (you have 24 months).
I did my Rescue Diver Course, what's next?
After Rescue and the First AID course, you have all the training you need to start your Divemaster course. Now it's time to get some experience and time underwater. To start the Divemaster training, you should have at least 40 logged dives and be a minimum of 18 years old.
Many dive centres will offer you a special deal on the fun dives if you sign up for the DM (Divemaster) program. For those on a budget or lacking the prerequisite dives to start the course, it's good to get them all in one place.
As previously mentioned, diving in various locations can be more expensive but extremely exciting. Practising your skills in different environments has a massive advantage for future DMTs (Divemaster trainees). In addition, diving in various places allows you to see how dive centres operate in other parts of the world. That can lead to picking up some interesting ideas. You can also decide where you would like to do your training or work in the future.
Where should I do my Divemaster course?
Over the years, I've realized there are a few types of Divemaster candidates: those who want to advance their career moving on to marine science or Instructor Development Course (IDC), those who wish to become excellent divers and gain loads of experience in a relatively short time, and those who are just loving the lifestyle, spending days outdoors, treating it as another adventure and just going with the flow.
Depending on your motivation, you should put some time into research to choose the right place that will fulfil your needs. Bear in mind that you'll spend most of your day in the dive centre during your training.
The best places to do your Divemaster course for those who perceive diving as a career are the big dive centres in the world's most famous scuba diving hubs, like Kho Tao in Thailand, Gili Trawangan in Indonesia or Utila in Honduras. Those are relatively inexpensive, extremely popular, and utterly busy diving destinations.
Training in such a busy spot will allow you to assist and shadow a variety of courses. As a result, you'll get the very best opportunity to develop your teaching techniques, plus it's much easier to find employment after your courses.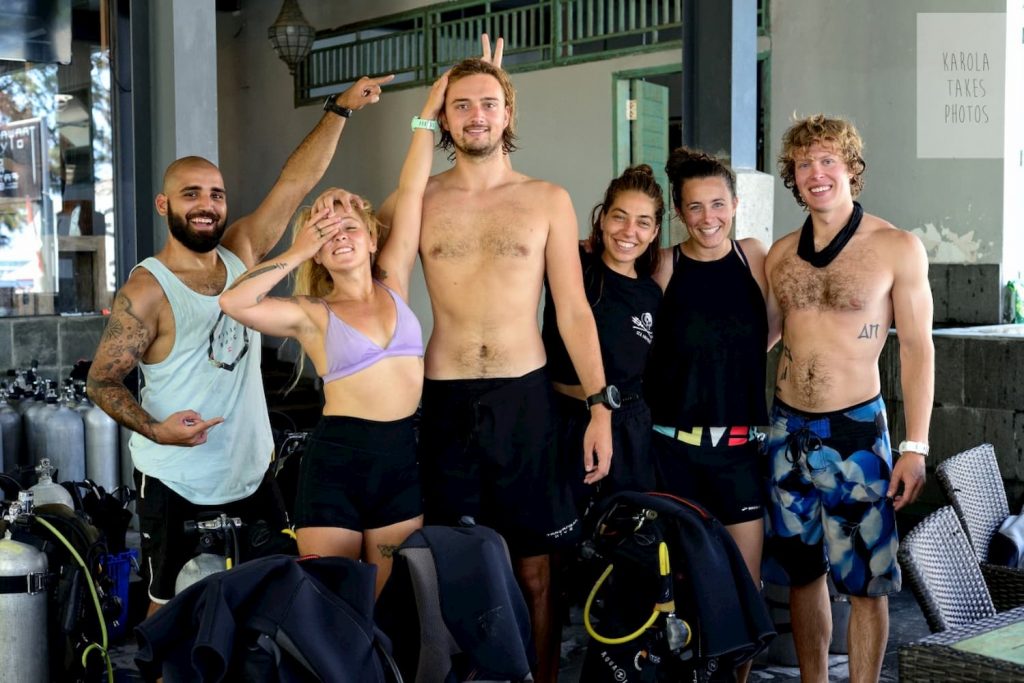 If you are simply interested in becoming a better diver and spending loads of time underwater surrounded by pristine coral reefs, marine animals, and barely any people, remote destinations are most likely to fulfil that need. Places like: Raja Ampat or Komodo in Indonesia, Palau, Maldives, Fiji, Malaysia, etc., are the ones you should research, to get loads of experience guiding rather than teaching. Dive operators in those areas mainly cater to certified divers offering day trips and liveaboards.
Those who are fascinated with the unique lifestyle, love socializing, and spend time underwater should choose places like the Gilis in Indonesia or Kho Tao in Thailand. They offer perfect combinations of a tropical getaway, a passionate diving community, and good quality of life. Plus, they are easy to access and therefore attract many different people from all over the world with a similar mindset.
Wherever you go, the Divemaster program will be educational and super fun. Your instructors will focus on passing their knowledge and experience during the diving day and keeping you entertained throughout the whole course.
What to look for when choosing a dive centre to do my Divemaster course?
Choosing a place where you will spend the majority of your day during your training is a very personal decision. When deciding on a dive centre, consider the size, vibe, instructors and their experience, the training they provide, and the location.
Size does matter. If your dream is to become a dive instructor or assist in numerous courses and get loads of experience in a relatively short time, you should choose a busy dive operation. That usually comes together with the size and the volume of customers they can accommodate and train. It's a common misconception that large dive resorts are "diving factories". Just because the dive centre is busy, it doesn't need to compromise the family vibe. It all depends on the people that work there. A great example is Trawangan Dive Centre on Gili Trawangan.
If the Divemaster course is just a step to progress in your career, choose the dive centre with an in-house IDC (Instructor Development Course). Instructors will already have a background and understanding of the best training needed to prepare you for that next level.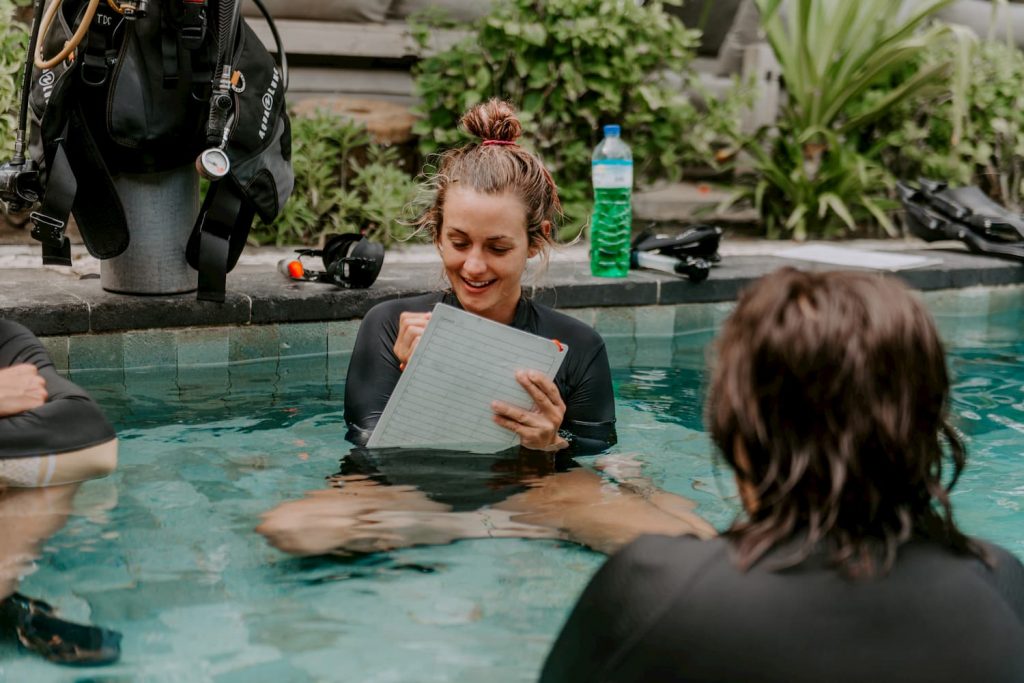 Now, the feeling or the vibe you pick up from the dive centre staff is extremely important. Make sure you choose a place where you feel comfortable asking any questions. You don't have to love everyone, but you should always feel welcomed and supported by the instructors, management and other DMTs. Bear in mind you will spend a lot of time in their company so choose a place you genuinely like.
Another thing you should consider is how experienced the instructors are. While new dive instructors are highly excited to teach, it's good to have someone with more knowledge and practice in the field as a mentor for your Divemaster course. In my opinion, first-rate dive operations manage to find the balance between hiring new and experienced instructors, so find THE ONE.
Why shouldn't you do the Divemaster course in exchange for work?
The question I get to answer very often is: "Can I get my Divemaster course in exchange for work?" My answer always is: "No".
Now now, it's not that I'm trying to be rude and take advantage of your savings. The reason is that most countries' law regulations do not allow you to work legally without a specific visa.
Therefore, if the immigration authorities would do the check-up or worst-case scenario, an accident was to happen while you are working, on your "free internship", you and the dive centre would lose credibility. In addition, you and the dive centre might face a trial for serious law violations and put both parties in a lot of trouble.
As you should know already, diving is a very safe activity, but some risk is involved. Incidents can happen at any time, despite your best efforts.
Also, the so-called "free internship Divemaster Courses" often take advantage of the candidates, considering their students as free labour and not giving them the required training. Simply saying: "you get what you pay for".
Do you want to save your money so badly?
Once you are actually paying for the course, you can count on your instructor's dedication, time and quality of the dive centre itself. You can expect higher training standards as they respect the local regulations and laws. If you feel disappointed or unsatisfied with your course, you can claim your money back and move to another dive centre that you'll be happier with.
Just give it a thought. If you are ill, you want to go to the best doctor. When you are flying, you expect to have a well-trained pilot. So when you are starting your career as a dive professional, you should aim for the best training facility instead of looking to save your money.
As instructors, we spend a lot of time coaching and advising Divemaster trainees. Our time put into personal training and our efforts to make you a better dive pro are too valuable to give them away free of charge.
How long does it take to become a Divemaster?
Like many other diving courses, Divemaster Course is very flexible and can take from 3 weeks up to 6 months. It again depends on your location, schedule, and time frame. If you are doing it over the weekends while still working, it will take much longer than if you do it as a part of your extended holiday break.
If you are in a rush and have all the certifications and experience needed, it can take as little as three weeks. However, I usually recommend spending at least five weeks on your first pro-level training. That allows you to go through everything thoroughly, assist in various courses, and accomplish all your assignments at a much slower phase. There is a lot of new information to absorb, and I can't imagine cramming all that into a shorter time frame.
If you want to get a head start, you also have an option to do the theory part online.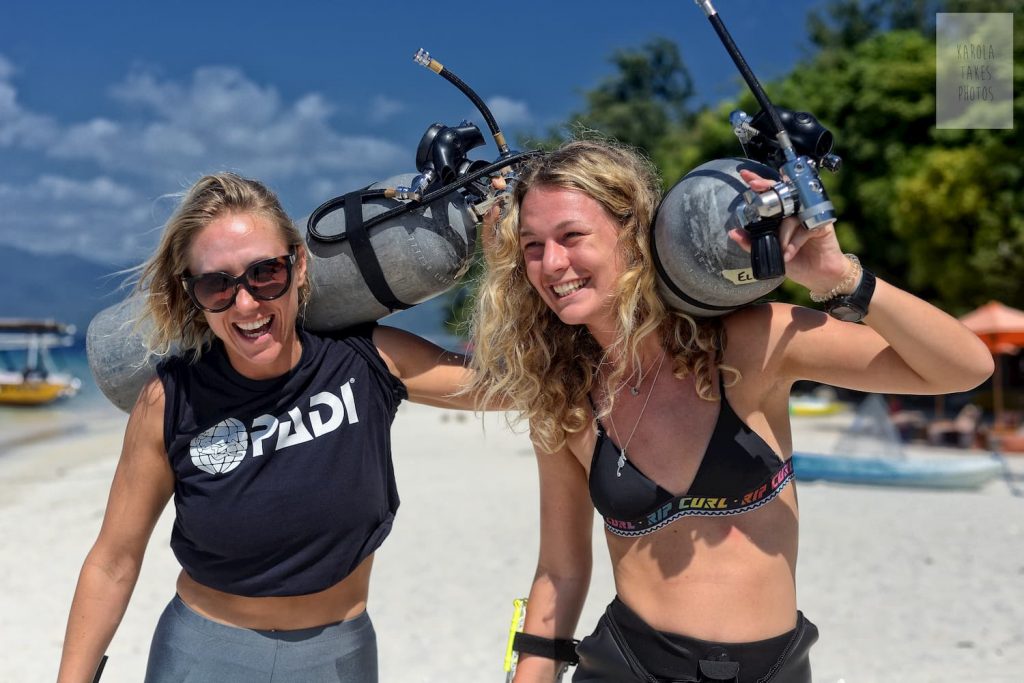 What insurance do I need as a Divemaster trainee?
Most travel insurances cover basic scuba diving activities. Still, if you think of doing your Divemaster training, the smart thing is getting an extra cover designed for professional divers. It is because you will spend a lot more time in the water and around the dive centre, dealing with the equipment, boats, and people. Plus, you will most likely be away from your home country, so it's worth having an additional safety net.
The good thing is, there are a lot of different options. I always use the Divers Alert Network (DAN) as they have a 24/7 helpline and have supported me on various occasions. PADI recognizes them as a leading dive safety organization, and they also carry out a lot of research on diving accidents. There are others like World Nomads or Dive Assure, so check them out and choose the most suitable plan. Here you'll find some of the best packages for scuba divers and dive professionals.
What dive equipment should I buy before starting a Divemaster course?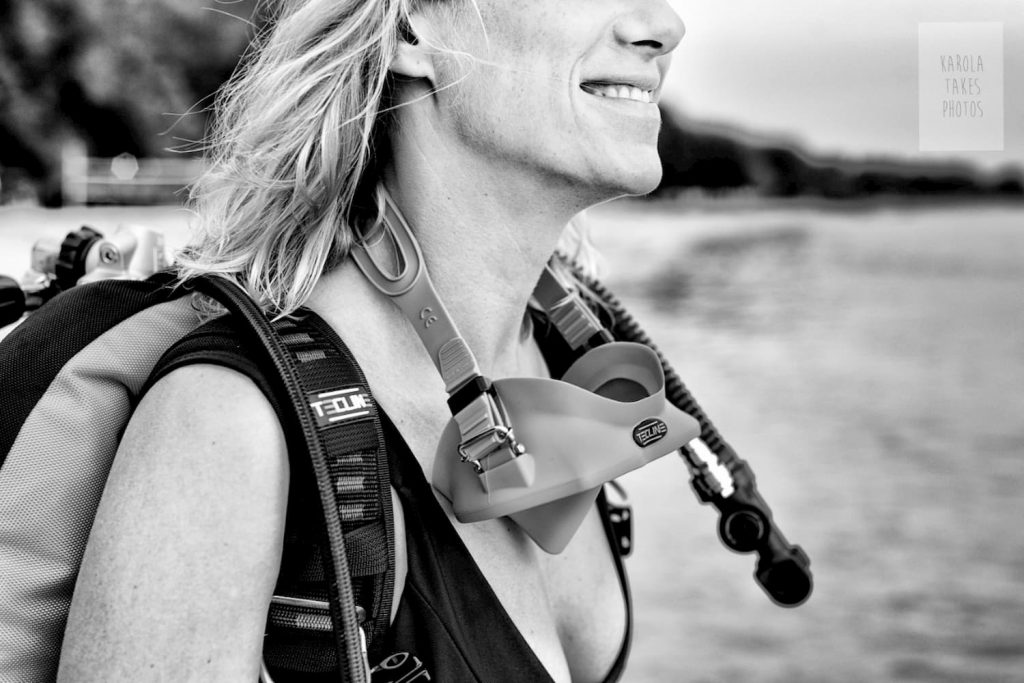 Any professional always need good tools. As a dive professional, think of your dive equipment as a tool to do the job. The more comfortable and familiar you are with it, the better you'll feel underwater. Therefore having own equipment is always the best thing to do. If you're not sure what works best for you, ask for advice in a local dive centre or contact the facility you'll do your course with, they will be more than happy to help you make the right decision.
Once you are packing a bag to start your diving adventure, having at least your own mask and snorkel is a must! Such a small piece of equipment, yet if not fitted properly, can totally destroy your dive and time underwater. Owning a dive computer is also something to consider. You can't be a professional diver without it, to be honest. It increases your and your divers' safety, allows you to plan the dive, monitors your depth, time and NDL, holds all the information about your dive profile, and so much more.
If you're on a budget, look for a second hand one, you definitely can find a good deal online. If a dive computer has 100 to 200 logged dives, you can consider it new!
What should I expect during my Divemaster course and am I ready for it?
What you can expect for sure is a lot of fun and time well spent underwater. However, don't forget that you are on the course and therefore you will be evaluated on your performance. There are skills, tasks, and workshops you will be marked on, but you also need to show a professional attitude towards others and care for the environment. If you lack motivation, energy, and passion for the ocean, maybe this course is not for you.
Being a DMC (Divemaster candidate) can be exhausting at times, especially if you are not used to physical activity as it requires carrying heavy equipment, loading and offloading the boat, etc. At the start, your body will be getting used to spending much more time underwater. In addition, it can be tiring and strenuous for your ears due to the constant pressure changes.
Lastly, you will be surrounded by people all the time. They come to the dive centre to have fun and enjoy the experience, which means you need to be "on the top of your game" with a smile on your face regardless of your mood.
Yes, it is indeed challenging but also an extremely rewarding job. You get to have the ocean as your office, and what can be better than that?!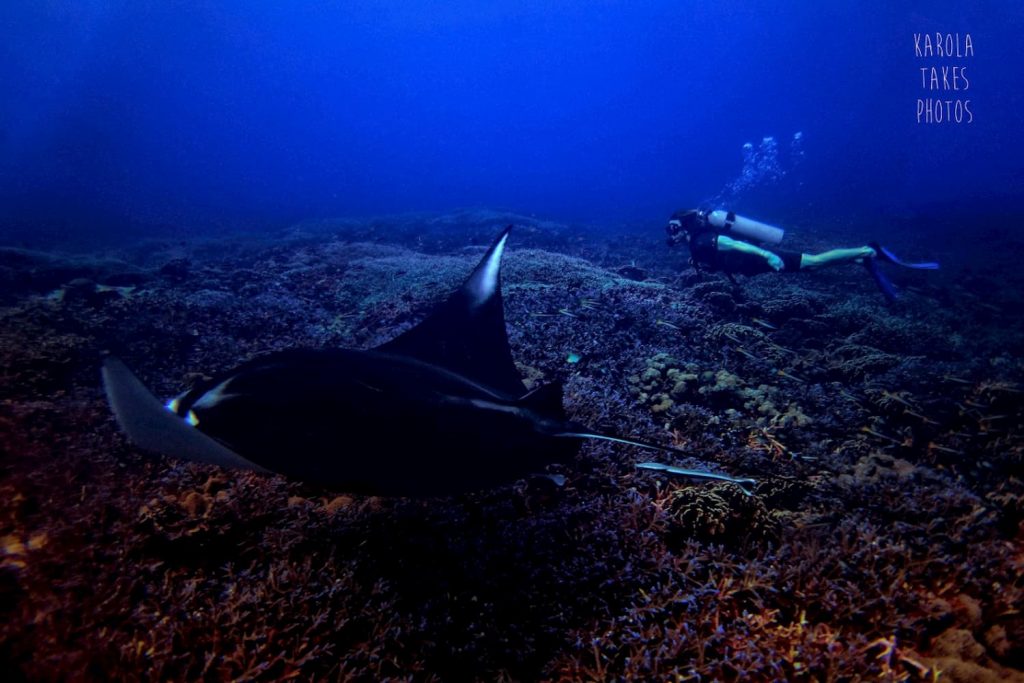 Divemaster course will take your diving to the next level, teach you how to deal with customers, work in a team, and you'll learn about ocean conservation.
During Divemaster training, you have a mentor and other dedicated instructors leading your progress. Those are usually very passionate and enthusiastic people who love to talk about the ocean and diving. If you want to improve your experience, do not hesitate to ask questions and participate in all the activities. Remember, you are there to learn, so turn into a sponge and soak in all the knowledge. Trust me, you'll need it in the future. As much as your Divemaster manual is helpful, there is no substitute for those after-hours dive-chats with all the dive professionals you are surrounded with.
The most rewarding thing as a Divemaster trainer is to witness a transition in your students. From timid Divemaster candidates out of the diving comfort zone to true dive leaders taking responsibility for others. No matter what, this experience will change your life for good.
How much should I pay for Divemaster?
Divemaster course is the course where you truly get the value for money. Once you sign up, you'll have the cheapest diving ever!
It's hard for me to say precisely how much it will cost, as it depends on your location. However, you can get a package deal most of the time if you sign up for all the courses straight away. Usually, the more training you do with one dive centre, the cheaper it gets. For example, in the program we run at Divemaster Gilis in Trawangan Dive Centre, once you sign up, you have a discount on speciality and technical diving courses and all the fun dives during your training are free of charge.
The Divemaster training is quite expensive, though most people forget that once finished, you frankly have completed professional training and may work in that profession for the rest of your life. So overall, you need to be prepared to spend around 1,500 to 3,500 USD, depending on your location and package.
In some places, there is an option to do your training as a free internship (read a few paragraphs up) where in exchange for work, they offer you a course, accommodation, and sometimes food. If you choose that, bear in mind that you need to be available to work at any time. It is usually contract-based, and you need to commit for 3 to 6 months. Most of the time, this option doesn't cover Divemaster materials (Crew Pack) and professional fees, which costs around 500 USD.
If you see a Divemaster course suspiciously cheap, ensure you know what's included in your training and check there are no hidden costs.
PADI Divemaster course, what can I do? What I can not do?
As a PADI Divemaster, you are qualified to assist PADI Instructors with students, lead certified divers on guided dive tours, teach and certify PADI Skin Divers. You can also teach PADI Discover Snorkeling programs and conduct PADI Scuba Review programs for certified divers worldwide. After earning a Speciality Instructor rating, you can teach speciality courses that don't include dives (Oxygen provider, some Project AWARE specialities, Equipment specialist), organize diving trips, or simply enjoy having top diving skills.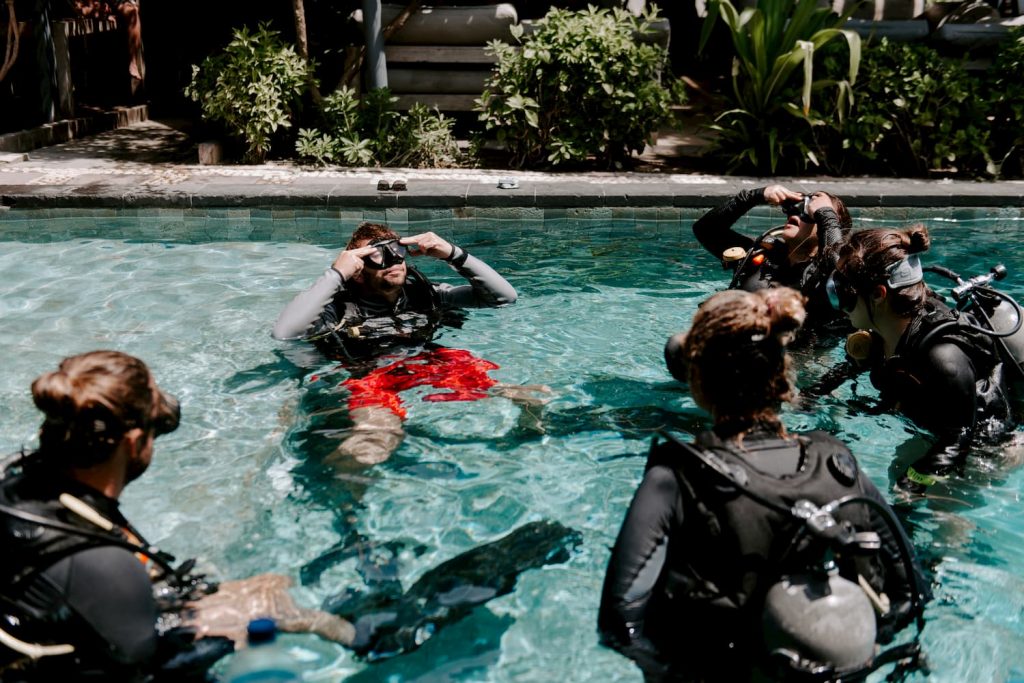 You cannot teach scuba diving courses that are conducted in open water, with some exceptions (Digital Underwater Photographer speciality courses under the direction of a PADI Instructor).
Finding job as a Divemaster, is it easy?
As with any job, it helps to be in the right place at the right time. Securing your first diving job also has a lot to do with your personality, languages, additional skills outside of diving, and previous experience. Even though spread across the globe, the diving community is tiny, so networking and leaving a good impression is vital for future employment. The best place to look for a diving job is a PADI pro website (you get access to it once you are certified as a Divemaster), where you can find plenty of work opportunities posted every day from all over the world. Another good source is Facebook. You can join different groups and find scuba boards for dive professionals.
If you choose to do your training in the busy dive destination, it's also a significant advantage in finding a dive centre to work for.
You should know that work opportunities as a dive professional increase with further training. In all honesty, it's much easier to find a job as a Dive Instructor than as a Divemaster. If you want to know how to become a dive instructor, check this out.
Working as a Divemaster, what should I expect?
It's so, so, sooo cool! The sea is your office, you make friends with ocean creatures, and you spend days with like-minded people from all over the world, talking hours about the things you love and care for. You laugh so much your belly hurts. You can stay offline to have real conversations and probably drink way more beer than you should. You can live a very simple yet exciting life, feeling like every day is a new adventure. Gain friends for life you would never meet otherwise and be surrounded by pure nature. Even though hard sometimes, it doesn't even feel like work most of the time.
It's fair to say that the Divemaster job is one of the coolest jobs you can ever have.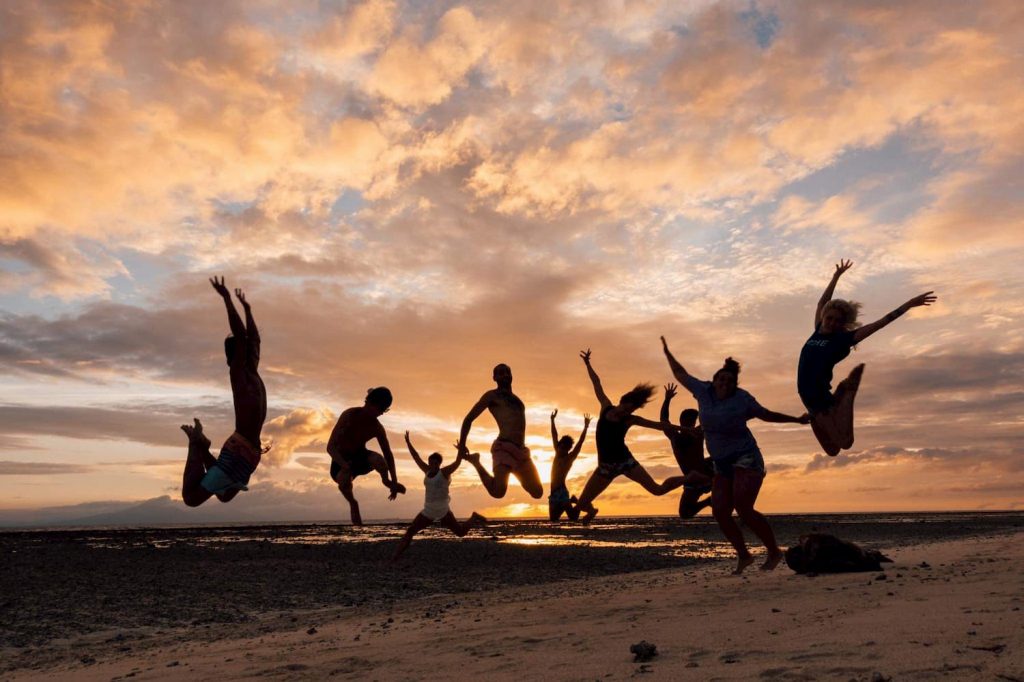 How much does Divemaster get paid?
It might not be what you want to hear, but if you are in this business because you want to get rich, maaaybe you should reconsider ;). Unless you get a position on a private yacht or high-end resort, the pay is not very high, considering the investment you have to make. You will usually get paid per guided customer (2 to 5 USD) or work on a daily rate that varies from (20 to 50 USD). An additional source of income as a Divemaster is through dive equipment sales and dive trips.
As an actively working Divemaster, you'll essentially exchange monetary compensation for incredible adventures. You'll also get hours spent with turtles, sharks, and other marvellous creatures. Plus, you'll be rewarded with the ocean's smell in your hair and sun-kissed skin if you do it in the tropics. Just like I did. I can honestly say it is 100 % worth it! Trust me. And hey, you can travel all over the world and get paid to dive!
Open Water Course to Divemaster in one go, is it a good idea?
We call doing an Open Water to Divemaster course a "zero to hero" in diving circles. I did that because I had a bunch of time and some cash saved. I found it very rewarding as I was constantly in a diving state of mind for three months, soaking up all the knowledge and getting experience underwater. In addition, it was fantastic to have more time to get to know the dive centre, its staff, and the local dive sites.
It is an excellent option for those on a gap year or taking sabbatical leave. Before you get too excited, though and commit to doing the "zero to hero", consider if you are generally comfortable in the water in the first place as it's quite a considerable investment of time and money.
Another way to do your Divemaster course is to gradually progress with all the courses and build experience at a slower pace over the years. It will usually be rather pricey. However, the great advantage is enjoying your dives in different places, getting familiar with how other dive centres operate and choosing your favourite spot to do your professional training.
What general skills a Divemaster should have?
Organizational and logistical skills are some of the most valued in the diving industry. You will be responsible for groups of people on holiday (it's not an easy task). Hence, it would be best to ensure that everything is done in a timely matter, have spare equipment and parts prepared, and be ready to answer many questions, most of them not even dive related. Being good with sales, marketing, and social media helps a lot to promote yourself and your dive centre. Other skills like languages, good communication, flexibility, confidence, and patience are the key to being a top dive leader and getting a job anywhere you want. Remember that you become a role model as a dive professional, and others will look up to you.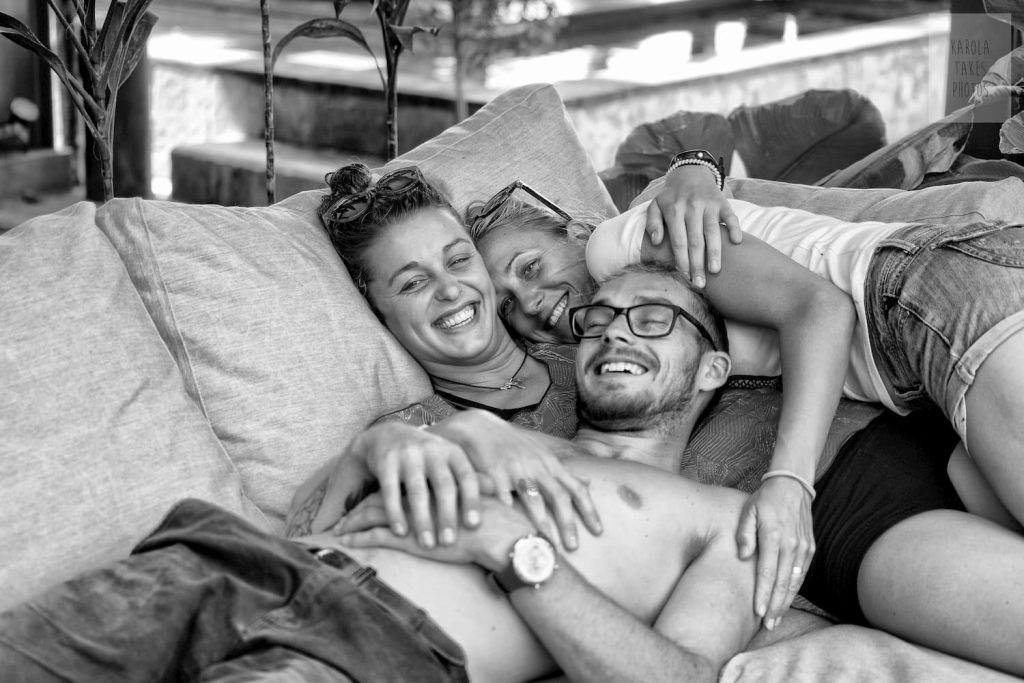 If you ask me: "what was the best decision you've made?" becoming a dive professional is one of them. It completely changed my life. Diving made me a better person and a profoundly aware human being, ready to save the planet that mainly consist of water. I hope this guide will help you make that first step into the most exciting job you could ever dream of. Now it's time to make a move, fasten your seat belt, and enjoy the ride.